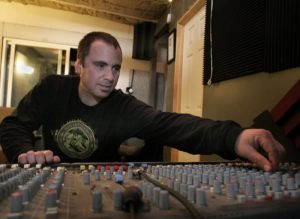 If you are interested in drum lessons, performance, or recording services,
please email me at
jessewickman@gmail.com
or call
707-799-5051
---
Jesse Wickman is a working musician and Drum instructor who has been playing for 30 Plus years. He is a passionate and dedicated player who has been playing drums full time since the age of thirteen. Since moving to the Bay Area in 1989, he has proven himself to be a very accomplished and versatile musician. Mr. Wickman excels in all varieties of music, including jazz, improvisation, polkas, various styles of Latin, country, ska, rock, punk, and much more. He can play anything. Authentically.
He has compiled a long list of recording credits, both as a session musician and with his own creative projects. He has toured extensively throughout the U.S. and Canada and continues to maintain a very active performance and teaching schedule. He also has a great deal of experience with the performing arts (video games, plays, accompaniment, etc) . Mr. Wickman is a very fast learner with great music reading skills. He has always worked hard to stake new ground in drumming utilizing both his tasteful compositional stylings and his dynamic improvisation style . He possesses a versatility and ability to thrive in a wide range of musical styles.
Past and present bands include Nuisance and Fifteen (Lookout Records ), Undertoad and The Conspiracy (Flying Harold Records) ,Army of Ants (jazz improvisation), Blindspot (ska), Edaline (Law of Inertia Records) , Blue Ribbon (country), Indie Rock bandInkwell , and Victim's Family (from S.F.). Many of these bands have been featured in the pages of Section M , The Independent, The Press Democrat, and other bay area publications.
Jesse is the beloved instructor of 40 or more private drum students at his recording studio called Atlas Studios in downtown Santa Rosa. He was the percussion coach for Santa Rosa Accelerated Charter School and Maria Carillo High School bands for 7 years and also, records regularly with many bands in his studio including: Steve Roybal, Amber Lee and the Anomilies, Snag, The Mood,Trial by Combat and many more. (please check links below for these bands and more). Jesse has been involved in a free jazz group since 1994 that was called Army of Ants and in 2001 played with Frenzy trio.